Learn Advanced UX Strategy
"The UX Strategy Blueprint is exactly the course I've been looking for. I truly believe there is an incredible amount of value here for all UX Designers."

Michael – Senior UX Designer
Explore The Course
Mental models are the ways that people understand, reason, and solve problems. They're based on past experiences, knowledge, beliefs, and assumptions.
They're often referred to as a small scale model that we carry around in our heads about how the world works.
In UX design, mental models help us to create products that match how users already think. This makes it easier for users to learn and use the product.
Creating mental model diagrams helps to identify gaps in the experience, share findings, and get a detailed view of the user's thought processes.
All of this leads to better products, collaboration, and problem-solving.
In this article, we'll give 7 practical steps for creating mental model diagrams, another 7 useful tips for making them more effective, and another 3 examples of other designer's diagrams.
7 Practical Steps for Creating a Mental Model Diagram
1. Choose the Problem or Situation and Identify the User Groups Involved
Start by figuring out what problem or situation you want to model. This could be something that you want to understand better, like a process, system, or interaction. Then, identify the different groups of people who are involved in the process and will be affected by your solution. These could be internal or external users, customers, stakeholders, or other key players.
2. Conduct User Research, and Analyze Patterns in Goals and Behavior
Conduct user research to understand the goals, behavior, pain points, and motivations of the different user groups. Gather data through methods like surveys, interviews, observation, and analytics. Look for patterns in the data that will help you identify the most important tasks and sub-tasks to include in your model.
3. Write the Main Concepts, and Tasks on Sticky Notes and Group Them
Write each main concept and all of the tasks associated with the process or situation on individual sticky notes. Group the notes into themes based on their topic and relevance. Group the main concepts and phases into a higher-tier category of mental spaces. Then order your task-based themes chronologically to create a flow of tasks within the mental spaces.
4. Add Details, Sub-Components, and Visual Cues to the Diagram
Add details and visual cues that help you see the relationship and patterns across each of the themes. For example, you could color the tasks based on which user group they relate to. You could draw arrows between tasks that have a direct cause-and-effect relationship. Or, you could use arrows to indicate a feedback loop.
5. Review the Diagram for Accuracy and Completeness
Go through the diagram with your teammates and stakeholders to sense check the categories and terminology you've used reflect the findings from your UX research. Compare your diagram to your research learning objectives to see if you've captured the right kind of tasks and the right level of detail. Make sure your language and terminology is accurate and clear.
6. Map Existing Features to the Diagram and Identify Gaps
Audit your existing content and features. Write them all onto individual sticky notes, then map them to the diagram. Map them based on which task or action they help the user to complete. Break up larger features into functions if needed, or consolidate smaller groups of functionality. When you're done, any gaps on the diagram signal gaps and unmet needs you could resolve.
7. Use the Diagram to Improve the Situation or Process
Use the diagram to help you identify gaps and opportunities to improve your product, or create new functionality. Use it to inspire the prioritization of your roadmaps and backlog or to create a design strategy. A mental model diagram is also a good foundation for journey mapping. Now that you've identified the steps add insights about pain points, moments of delight, and customer needs.
Useful Tips for Designing Effective Mental Model Diagrams
Keep It Simple: As you begin mapping out your diagram, think big picture. Start with the broad strokes and focus on the main tasks and goals. The details will come into play later. If you attempt to include every small detail right away, it's easy to get overwhelmed and veer off course.
Make It Collaborative: Working with stakeholders and users is essential to create a useful diagram. We need to involve everyone to make sure their needs and perspectives are accurately represented in the output. Collaborative feedback increases our chances of success.
Make It Visual: Your diagram should act as one big, very informative infographic. Think about how you can use color, iconography, and visual elements to express more ideas, highlight correlations, create connections to related topics, and distinguish parts with conflicting relationships.
Test Your Assumptions: Throughout the process, keep a log of any assumptions or hypotheses that you've used to make decisions about your diagram. Prioritize your assumptions based on which ones pose the biggest risk if they were to be wrong. Validate them through user research.
Be Flexible: Mental models can evolve and change over time. Be open to updating and refining the diagram as you gather new information or as the situation changes. We can never truly know what's in a person's mind, so as new info comes to light, don't be afraid to make changes.
Keep It Focused: Limit the scope of the diagram to the specific problem or situation you're trying to model. Be conscious that with every piece of information you add, you add complexity to the diagram. Think carefully about what to include and base everything on your learning objectives.
Iterate, Iterate, Iterate: Creating a mental model diagram is an iterative process. Don't expect to get it perfect the first time. Keep refining and improving the initial model as you go. In the beginning, focus on the broad strokes and key themes, add detail as you go, and constantly validate.
3 Examples of Mental Model Diagrams
Designing a product that meets people's needs and provides them with a good experience requires knowing what they want and why.
In this context, mental model diagrams serve as a valuable tool to map out users' experiences in a comprehensive and scalable manner.
By breaking down complex processes into simpler, more manageable components, designers can identify pain points and opportunities to improve the user experience.
Mental model diagrams provide a holistic view of users' interactions with a product, enabling designers to empathize with users and design products that cater to their needs.
Here are some examples taken from Indy Young's website on Mental Model Diagrams: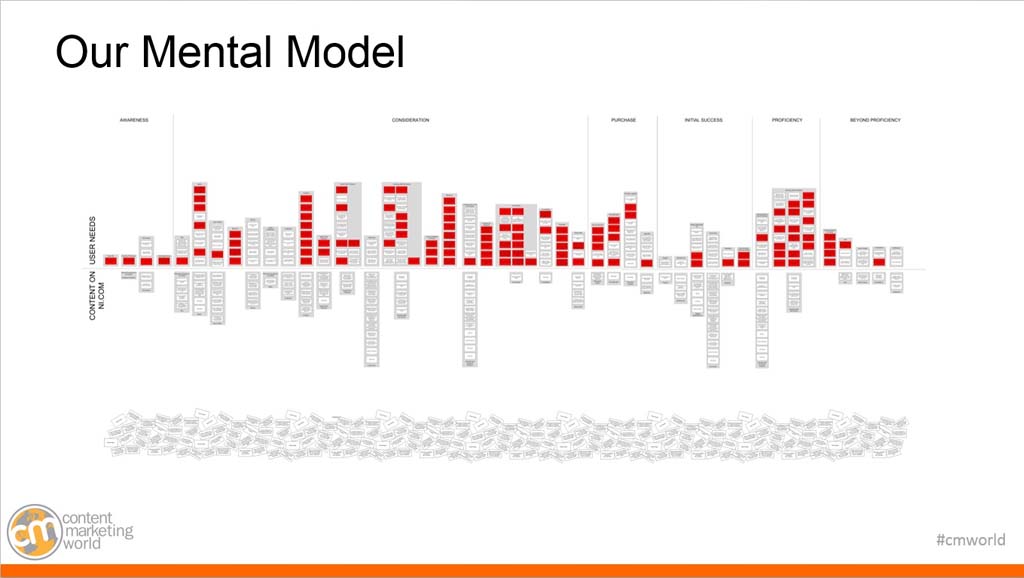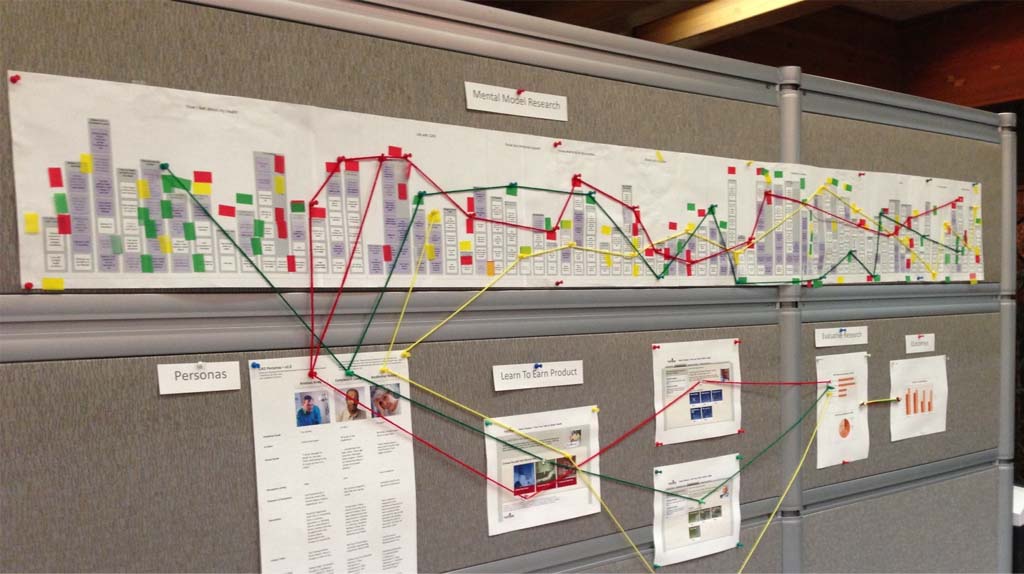 Use these as inspiration for your own diagram. You can use whatever tools and processes you like to make this happen. Find something that works for you and your team.
And remember, focus on your specific learning objectives and keep everything focused on achieving an outcome that will help you take action to create a better user experience.
How a Mental Model Diagram Could Improve Your Design Process
Get a Clear Understanding of User Needs and Behaviors
A mental model diagram provides designers with a visual representation of users' needs, goals, and behaviors. This diagram can help them understand how users interact with a product or service, and what their pain points and challenges are. This knowledge allows designers to create products that are better aligned with users' mental models, making it easier for them to learn and use the product.
Improve Communication and Collaboration With Your Team
A mental model diagram is a tool that helps people in a team understand the users, their behaviors, and the product or service. This shared understanding allows teams to communicate more effectively, collaborate better, and make more informed decisions. A mental model diagram can be used to align stakeholders and teams around a shared understanding of user needs, and can serve as a blueprint for the design of the product or service.
Identify Gaps and Opportunities for the User Experience
A mental model diagram helps designers see places where they can make the user experience better. It shows areas where users might have trouble or where there is room to improve the experience. This could be an opportunity to add new features or functions. By finding these gaps and opportunities, designers can make products that people will want to use more easily.
Make Better Decisions Based on Evidence and Insight
Mental model diagrams help designers see what users need. This makes it easier to make good decisions. When designers know the users' mental models, they can make products that are more likely to work well and not fail.
Make Your Design Process More Focused and Efficient
A mental model diagram is a plan that shows designers what they need to do. It helps designers focus on the most important tasks and parts of the project, so they can save time and money. Designers should make a mental model diagram at the beginning of the design process, so the project will be successful and user-friendly.
Improve the User Experience and Create More Value
A mental model diagram helps designers create products that better match users' needs and expectations. By understanding how users think about the product and designing it accordingly, designers can create products that are easier to learn, more intuitive to use, and more enjoyable to interact with. This can result in happier users who use the product more often.
Key Takeaways
Mental models in UX design facilitate product creation that matches how users already think, promoting easier learning and use.
Creating mental model diagrams helps designers understand real world human behavior, identify gaps, share findings with the team, and understand user thought processes.
Mental modeling and understanding human behavior requires a good grip on systems thinking.
Mental model research can be used to create a conceptual model or mental representation that we use in gap analysis to create better products.
A mental space is a phase in users mental model that represents the need to focus on a distinct task or in a specific real world environment.
Through UX research, we identify personas, customer needs, and scenarios to help us identify each different mental model.
Mental model research helps us to understand the users reasoning throughout a process and produce a design strategy based on evidence.
Gap analysis helps us to identify opportunities to create new concepts and ideas for new features and functionality.