Learn Design Thinking
"I learned a lot from the live demonstrations. I really enjoyed watching the problem statement, affinity mapping and DVF excercises. Definitely stealing these 🙂."

Toqa – Product Designer
Explore The Course
These practical examples of Design Thinking in the real world show how human centered design has helped to solve complex problems in healthcare to corporate.
With the help of this article, readers will be able to understand how design thinking works in practice and apply these creative processes to their own projects.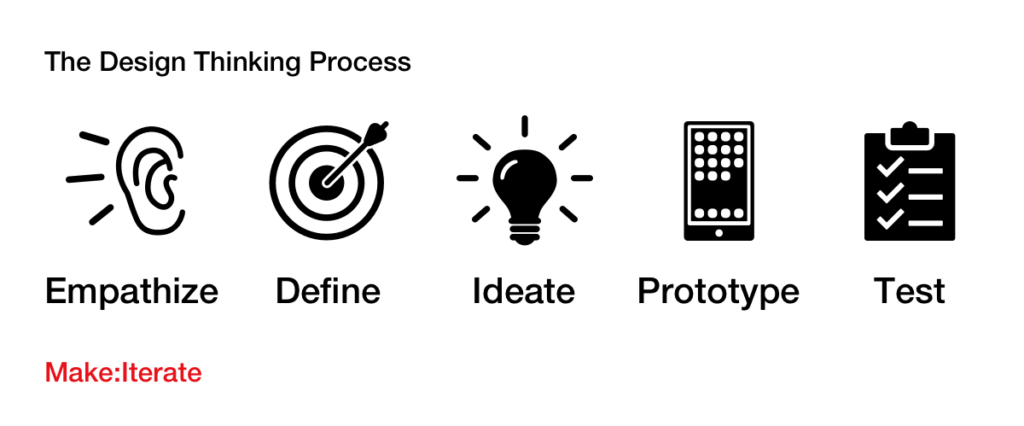 6 Practical Examples of Design Thinking in Action:
1. Designing Waste Out of the Food System
Background
IDEO partnered with hotels, food banks, foundations, and entrepreneurs to combat food waste. The challenge was to help reduce the 1.3 billion tons of food wasted every year and equip food industry players with the design principles and support to cut waste further. The outcome was an array of innovations to help individuals, businesses, and governments reduce food waste.
Methods
The team at IDEO used a participatory design method and partnered with a variety of related food waste and environment organizations. These organizations each represent different aspects of the issue to be solved and bring their own unique perspectives and experience to the table.

Together they launched an Open Innovation Practice that invited people from all over the world to track their personal waste and brainstorm solutions to reduce it. Over 20,000 people from 113 countries took part in the challenge. Participants submitted more than 450 ideas and a team of food industry experts selected the top 12 proposals.
Results
One idea was to create software that allows communities to collectively purchase food directly from wholesalers and a service that takes excess meals from corporate events to people in need.

A $50,000 grant was given to a scale-up that has a creative solution that converts inedible food and paper waste into a compostable alternative to oil-based plastic.
The initiative brought communities together, inspired them, and armed them with the tools they need to reduce their waste more consciously as individuals.

And, the initiative helped to secure funding for a range of start-ups that are experimenting in the area of food waste reduction and sustainability.
Source
Designing waste out of the food system
2. Supporting Newly Diagnosed Diabetes Patients
Background
Many mobile applications have been developed to help people manage diabetes on their own. However, these applications often lack a theoretical foundation or input from people who have diabetes.

The goal of this study was to develop and test a mobile application that helps people with newly diagnosed type 2 diabetes manage their diabetes using design thinking.
Method
The app was designed and tested in 2015 using a design-based research approach.

This involved working with people who had recently been diagnosed with type 2 diabetes, as well as researchers, healthcare professionals, and app developers.

The approach consisted of three phases: inspiration, ideation, and implementation.

The first phase involved interviewing people who had recently been diagnosed with diabetes to understand their attitudes and beliefs about the condition, as well as their needs and the challenges they face in day-to-day life.

In the ideation phase, four workshops were held with users to discuss their ideas about what an app should do to help them live better with diabetes.

Finally, 14 users tested the app over 4 weeks; they were interviewed about how easy or difficult it was to use, as well as their perceptions of the app.
Insights
Most users said they had no symptoms and did not think of diabetes as an illness, which negatively impacted their diabetes self-management.

People with diabetes need simple information about how to manage their disease in their everyday lives. They said there was a gap between the information they were given and the information they needed.

Some users feel they lack a good overview of all the different diabetes care activities that are available to them, such as visits to podiatrists and eye specialists. Some people said they felt disappointed that their GP hadn't made them aware of the support available.

People find it difficult to navigate the healthcare system, keep track of appointments and organize all the information that's given to them along the way. People said they often receive conflicting information and can end up feeling lonely and insecure.
Results
Users found the app valuable for support, particularly for raising awareness about their psychological health and informing and guiding them through the healthcare system after diagnosis.

The final app had five main functions: an overview of diabetes activities after diagnosis, recording of health data, reflection games and goal setting, knowledge games, and recording of psychological data such as sleep, fatigue, and well-being.

The design thinking processes used in the development and implementation of the mobile health app were very important. They helped to create value for users. Special attention should be paid to the training of professionals who introduce health apps to people.
Source
BMC Medical Informatics and Decision Making
3. Solving a Water Quality Issue in a Rural Community
Background
This study is part of a larger research project on how to use design thinking to find creative and sustainable solutions to environmental problems.

The study followed students from the Water Treatment class of the Université de Moncton's (Canada) civil engineering program over their four-month 2019 semester.

They were tasked with solving a water quality problem in a nearby rural community, where the water supply contains a higher-than-normal concentration of arsenic
Method
The students were divided into two groups, one group was tasked with finding solutions using the traditional technical approach to problem solving, while the other group was instructed to follow a design thinking process.

The group tasked with applying the design thinking process followed started by conducting ethnographic surveys to gain empathy for the people affected by the issue, as well as for the problem they are experiencing. Users were observed daily in order to understand their aspirations and needs.

The problem was then defined and redefined through an iterative process in order to learn about different perspectives and information surrounding the issue. The findings were then briefly summarized into a succinct problem statement so everyone could work towards the same goal.

During ideation, many ideas were proposed, some of them were kept and others were discarded. Prototypes were created quickly to help assess which ideas work best.
Insights
The design thinking group said that it was easier to define the problem by speaking to the people they were designing for. This helped them to better understand the needs and concerns of those affected by the problem.

Most interestingly, the students from this group mentioned that design thinking led them to generate more ideas and, ultimately, to produce more diverse possible solutions which were more feasible and based on real needs.
Results
The study concluded that the design thinking group had a higher level of creativity, and they developed an appreciation for the user's needs which is something that isn't currently taught to them in traditional engineering training.

The study found that using design thinking more often to solve civil engineering problems, especially environmental ones, can lead to more innovative solutions that are typically difficult to address because of their complexity and scope.
Source
Global Journal of Engineering Education
4. Designing a Healthcare Information System
Background
Roughly 14,000 children under the age of 5 died each day throughout 2019 worldwide.

98% of these deaths were in low and middle-income families.

Health management information systems (HMIS) around the world collate data and share it to help public health programs assess health conditions, and provide appropriate healthcare services, manage their practices

Several studies have expressed concerns over the quality of the data HMIS provides. Lack of accurate data has led to missed opportunities to use the data to improve healthcare services and intervene on maternal and newborn outcomes.
Methods
The project was started by a collaboration of different people who work in different areas.

These people included healthcare workers, physicians, health information management professionals, and information technology professionals from an academic medical university in Iran.

Through a series of 45 – 60 minute interviews with different groups – each representing one of their seven personas – they identified user needs and defined the problem they were trying to solve.

They then generated ideas for a solution and implemented one of those ideas as a pilot.
Insights
They learned that the data that was collected for the HMIS wasn't helpful because it focused on reporting conditions instead of promoting maternal and child health. There was also a lack of feedback, which made it difficult for workers to know whether their work was making a difference. This lack of motivation led to poor data quality.

They found that there was a lot of duplicate information, collected at various stages, which lead to the introduction of conflicts and irregularities which contribute to over or under-reporting information.

The data being collected was often incomplete or inaccurate due to a lack of standards on how to collect and input data.

They also found that systems were fragmented and siloed, which means data wasn't being shared and caused a lack of meaningful information.
Results
With the help of a design thinking methodology, the IMCHIS innovation was developed.

This is a web-based system with standardized methods of collecting data, that tracks how maternal conditions affect child health. The system also creates reports and queries based on comprehensive information.

Testing confirmed that the solution met users' needs and validated design thinking as an approach for developing an integrated system based on users' perspectives, workflows, and tasks.
Source
Methods of information medicine
5. Using Renewable Energy to Create a Sense of Community
Background
This case study shows how a participatory design thinking workshop helped a group of participants explore ways to utilize renewable energy solutions in their local city – Porson, located in Sweden.

Participants were local inhabitants of the city meaning they have lived experience in the area as members of the community.
Methods
A Design Thinking workshop was conducted that consisted of four phases: Inspiration, Synthesis, Ideation and Experimentation, and finally, implementation.

During the inspiration phase, participants were encouraged to analyze a range of renewable energy solutions and reflect on what they liked and didn't like about them.

During synthesis, they were then asked to consider how these solutions could be applied in the context of their own city. During this phase, they defined problems and identified solutions.

They were then given a variety of prototyping tools and asked to generate ideas and build prototypes for testing. They then presented their ideas back to the group.

Due to the time constraints of the experiment, the ideas were not physically implemented but rather discussed as potential solutions in order to assess the effectiveness of design thinking.
Insights
Participants found that due to the extreme weather within the area, it's too uncomfortable for people to meet in communal areas which impacts the sense of community.
Results
Participants decided to use renewable technology to improve the sense of community by creating communal areas that would use shelters, containing autonomous electricity generation technology to heat benches and provide warmth to the residents.
Source
Aestheticisation of urban renewable energy
6. Designing a New Value Prop and Business Model
Background
Researchers at the University of Sao Paulo wanted to understand if Design Thinking could be used to help create new value propositions and business models.

They used Design Thinking to help design a new value proposition and business model for a dental and hospital equipment manufacturer that offers B2B products.

They wanted to explore how they could change their business model from one that offers a product, to one that offers a service, and learn what the potential of Design Thinking was in helping them achieve their goals.

This is a trend that can be seen in many industries, for example, web hosting providers, rather than selling servers as a product, change their business model into a service that rents server space.

This can bring a few benefits it can optimize the supply chain and create efficiencies which lead to environmental and sustainability benefits by reducing production and waste.

The question the researchers set out to explore were:

– How can DT be applied in the Product-Service System development process?
– What are the main obstacles to the DT application in the PSS development process?
Methods
To explore and design a new value proposition. The researchers facilitated a group of participants and stakeholders through a series of 8 workshops, each lasting between 4 to 8 hours. The stakeholders included potential and existing customers.

None of the members of the company had ever met Design Thinking before, so they started the process with a 1.5-hour design exercise called "An Introduction to Design Thinking – The Wallet Project".

They then started the process by planning out how they would spend their time. Given that Design Thinking is iterative, non-linear, and often chaotic. This plan was adopted throughout the project as they learned and understood more about their goals.

Here is the process that the team went through from end to end: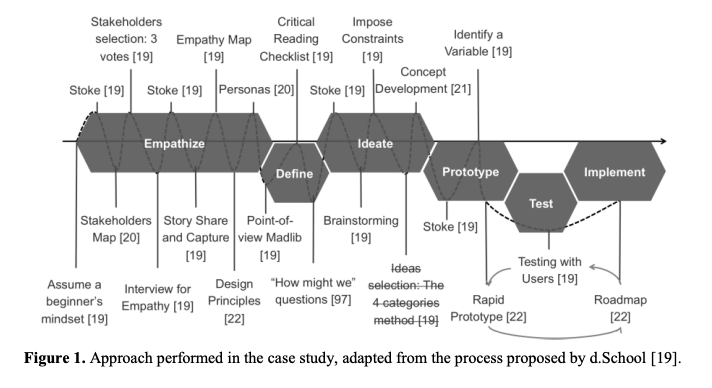 Insights
– There is synergy among DT and business model creation methods.
– It is important for the team to be interdisciplinary.
– The stakeholder map is essential to discovering and aligning stakeholders.
– Interviewing in pairs is important to capture all the necessary information.
– Generating research questions collaboratively lead to better quality questions.
– Creating a few concepts using all ideas helped to filter good from bad.
– Design Thinking was useful to produce features to support the value proposition.
– It's important to commit to a few long workshops rather than many short ones.
– It's essential that the same people participate throughout the project.
– The team must be provided with the appropriate mindset.
– The team usually start with a concept in mind, it's important to put this aside.
– It was hard to convince the company to dedicate more time to exploration.
Results
DT was useful in creating new business models that were centered around people. DT helped to create a value proposition and figure out who the customers would be. DT also helped to improve the target product's architecture and features.
Source
Application of DT Towards a PSS Concept Definition
Next Steps
The case studies in this article can be used to encourage leaders to support the design thinking approach and understand it's applications and outcomes.
Design thinking needs commitment and trust in the process, so it's important that leadership sets a tone of openness.
Design Thinking starts with a group of committed people discussing how to work together to solve problems. Once a problem area is defined, an investigation begins.
Speaking with people affected helps to define the problem and empathize with the end user. It also inspires commitment and enthusiasm from the project team as they connect with the cause.
Once a problem is defined, ideation and the development of prototypes begin. In design thinking, prototyping is favored over documentation and artifacts. It helps to get up and running quickly so that customers can provide feedback to help the project move forward.
Experimentation, curiosity, and the freedom to collaborate and be creative are key to successful innovation using the design thinking method.